Organs and Tissue Donations
What Is a Donation and Transplant of Organs and Tissue?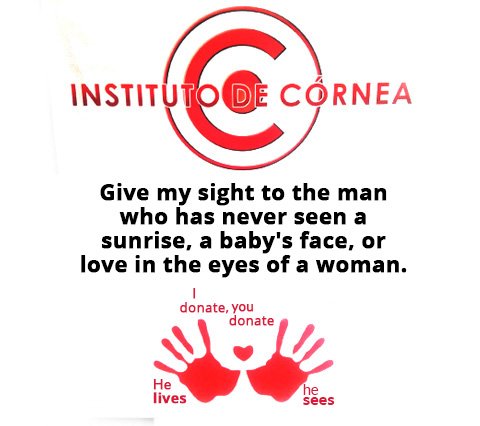 Donation is a voluntary act by which a person, or his/her family after death, authorize the use of organs and tissues for transplants. Donations are impartial and altruistic, since the donor, or their family, do not receive any remuneration. More than 55 people can benefit from each or organ and tissue donor. Organ transplantation is a medical treatment where diseased organs, tissues, and cells are replaced by those of a donor.
What Organs and Tissues Can You Donate and Transplant in Colombia?
Organs
heart, lungs, kidney, livers, intestines, pancreas.
Tissues
cornea, skin, bones, bone marrow, blood vessels, heart valves, cartilage, tendons, sclera, amniotic membrane.
What Myths Are There about Organ and Tissue Donation?
There are myths created by unscrupulous people around the world to generate fear and confusion. Here are the most common:
The donor ends up disfigured (NOT TRUE). The donor doesn't suffer any deformities. The acquisition of organs and tissues is done by specialists. Once the procedure is complete, the donor's body is kept intact so that it can be delivered to his or her family.
Does organ trafficking exist? (NOT TRUE). These same specialists are the only ones who are authorized to do organ and tissue extraction, which is done at the healthcare facility where the donor is.
Can You Donate While Still Alive?
Yes, some organs and tissues can be donated while you are still alive. For example, you can donate paired organs like a kidney to a relative or close friend as long as they meet the requirements under existing regulations. You can also donate tissues like bone marrow. When Can Tissues and Organs Be Donated?
The donation procedure is performed at the moment of death if a person experiences brain death or cardiorespiratory arrest. That is why it is crucial that people communicate their willingness to be a donor to their families.
What Conditions Must Donors Fulfill for the Donation to be Made?
Organ and tissue donation proceeds once the donor meets the neurological criteria to be declared dead. At this time, specialists proceed to perform a series of tests on the donor to determine the viability of organs and tissues. If a donor dies from cardiorespiratory arrest, only tissue can be extracted.
What Does Brain Death Mean?
Brain death occurs when a person suffers a catastrophic brain injury that causes the complete, irreversible cessation of all the brain activity that is responsible for controlling every organ. People who are in brain dead are considered to be dead medically, ethically, and legally. It is possible to artificially and temporarily keep organs functioning with medication and medical equipment while it is determined if they can be donated.
Who Can Be an Organ and Tissue Donor?
We can all potentially be donors. But only at the moment of death, and with your family's consent, is it determined if you can be a donor. A donor who is still alive can donate a paired organs or tissue in compliance with established clinical and legal regulations. There is no minimum age for being an organ donor. Minors can be donors if a parent or guardian gives consent.
Are Donations and Transplants Regulated in Colombia?
In Colombia, there is a wide range of regulations covering all aspects of donations and transplants of anatomical components, including Law 73 of 1988, Law 919 of 2004, and Decree 2493 of 2004. These rules control the process of organ and tissue donations from deceased and living people, donation mechanisms, the technical/scientific aspects of donating, and sanitary measures in case of non-compliance.
What Is the Legal Presumption of Donation?
The legal presumption of donation is a mechanism by which organs and tissues can be extracted. In Colombia, if there is no opposition from the donor or his or her family at the time of death, it is possible to proceed with the donation organs and tissues as long as they have not passed the time limit established to ensure safe transplants and there are no medical contraindications in the donor to be able to extract them.
What Is a Donation and Transplant Network?
The Organ and Tissue Donation and Transplant Network was created by the Ministry of Social Protection in 2004 in accordance with Decree 2493. It is a system that integrates tissue and bone marrow banks with health service providers that are part of transplant or implant programs, the National Institute of Health (INS), the Departmental and District Health Directorates, and other actors of the system. The network seeks to coordinate activities related to the promotion, donation, extraction, transplantation, and implantation of organs and tissue in order to make them accessible to the general public in high-quality conditions, in a timely and sufficient manner, and in compliance with principles of cooperation, effectiveness, efficiency, equity, and solidarity.
How Can Someone Get on a Waiting List?
1. A person who is suffering from a chronic or acute disease whose treatment may require a transplant must be referred by a specialist for a pre-transplant evaluation at an IPS that is authorized by a transplant program.
2. After this referral, the Benefit Plan Administrator Company to which he/she is linked (Health Promoting Entity (EPS), or Departmental and District Health Directorates) must approve the procedure at an IPS that is authorized with the required transplant program based on the conclusions of the pre-transplant study.
3. If the pre-transplant study determines that the patient meets the clinical requirements for the transplant and the insurer authorizes it, the patient can get on a waiting list for the required transplant.
4. Carrying out the transplant depends on finding a compatible donor.
How Are Donated Organs and Tissues Allocated?
Donated organs and tissues are allocated to the people on the waiting list, guaranteeing equity in their allocation, without discrimination based on family origin, socioeconomic status, sex, race, religion, and other factors in compliance with the technical and scientific criteria defined at the national level. This whole process is audited and controlled by government entities, ensuring its transparency.
Can I Find Out Who the Donated Organs Were Assigned To?
Information related to the donor, recipient, and donation process is confidential.
Where Can I Get More Information?
You can contact the Minister Ministry of Health and Social Protection. Website: www.minsalud.gov.co Telephone in Bogotá: +57 1 3305000 ext. 1300 – 1303, Email Address: ecardenas@minsalud.gov.co Carrera 13 N° 32 – 76.