Refractive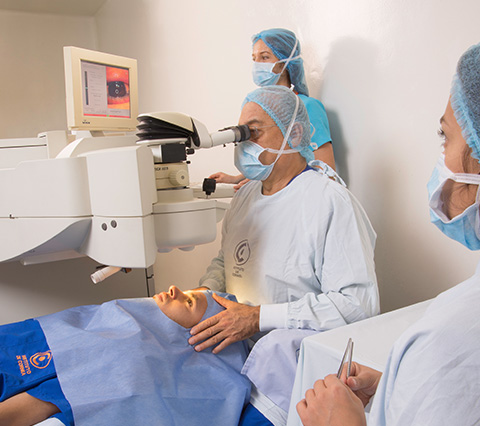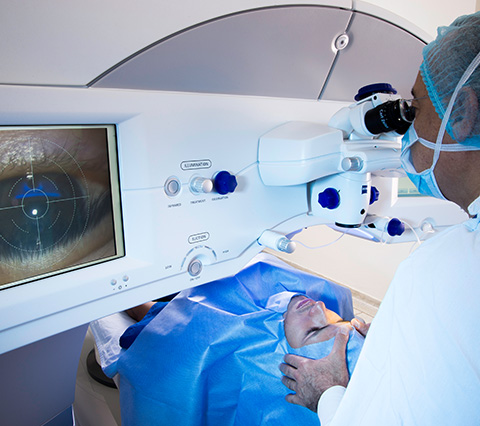 Refractive surgery is a procedure to correct refractive errors, such as myopia, presbyopia, astigmatism and hyperopia. Currently, it is in its third generation, which guarantees safety and efficiency.
Surgery with the Excimer Laser has been the traditional technique for these refractive defects. PRK (or LASEK) are basic but safe procedures to correct refractive defects, low myopia, astigmatism, and hyperopia. This LASEK technique is characterized by its high degree of safety and the excellent degree of eyesight quality that results from the procedure.
Despite having a slow recovery, it is our technique of choice because of its safety and because we do not have to make any cuts.
The LASIK procedure, which combines a cut with a microkeratome (blade) and the ablation of corneal tissue with the Excimer Laser VIXS S4, has traditionally been used because of its good results and rapid visual recovery. However, this procedure has been replaced by a femtosecond VisuMax laser, which generates greater accuracy in the cut and thickness of the flap, reducing the chances of the intraoperative complications of this technique.
With the evolution and improvement of these laser technologies, we have reached the third generation of refractive surgery with a technique called ReLEx SMILE (Small Incision Lenticule Extraction), which corrects myopia and astigmatism by dissecting the intracorneal lenticulum exclusively with the femtosecond VisuMax laser, which is pre-calculated with high precision, predictability, and extracted by a small, 3mm incision.
This advanced technology has significant advantages over the LASIK technique because there is no flap, there is no risk of complications related to the displacement of the LASIK flap, such as a striated flap or a weakening of the corneal structure due to a cut in the flap.
This technology, which used in Europe and Asia, is entering Latin America and soon the United States. It has been acquired by Incornea because it is the best femtosecond laser for corneal surgery available in the world due to its high precision, speed, and safety. Currently, ours is the first and only one in Colombia.