Philosophy
Mission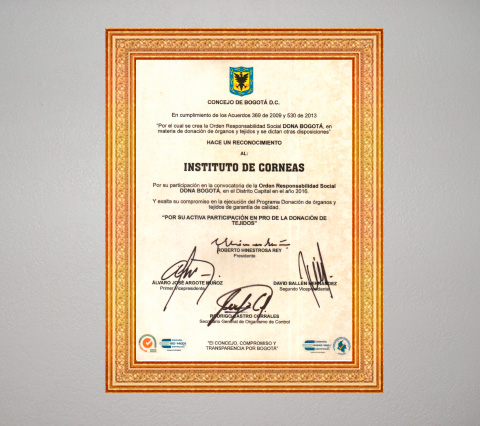 Incornea is a private institute that provides ophthalmological health services and specializes in refractive, corneal, and cataract surgery. We have a qualified, friendly staff who feel a great sense of responsibility, respect, and commitment that meets the expectations of our patients and always ensures safety and quality. We use state-of-the-art technology, adequate equipment, and work with high standards of quality and financial stability.
Vision
To be a renowned healthcare provider and recognized as a leader in quality refractive, cornea, and cataract surgery at the national and international levels.
Values
Ethics
Incornea's high level of respect for its patients and their illnesses is reflected in everything the institute does. We offer high levels of care, confidentiality, and professionalism in every treatment we provide. All our procedures are in compliance with the laws, policies, and legal regulations of all medical fields.
Integrity
The performance of the healthcare and work team at Incornea is based on honesty, trust, and consistency. Our eyes allow us to recognize the world around us, and it is of the utmost importance to give them the attention they require. Sensitivity, respect for the pain of others, and, above all, the integrity of the treatment that each person needs are vital to our work.
Quality Policy
At Incornea, quality is a permanent challenge and a lifestyle that allows us to improve as professionals to guarantee our patients' satisfaction. We achieve this with the help of our advanced technology and a competent, qualified, and dedicated team who provides our patients with safe, timely, and efficient services.
Patient Security Policy
Incornea is committed to protecting and preserving the precious gift of sight and has as a team with a strong culture of safety and appropriate behavior.
We promote, implement, and perform safe procedures that minimize risks to patients, families, and staff in order to achieve an increasingly reliable and internationally competitive institute.
Environment Policy
Incornea recognizes its social responsibility to the community and environment. Therefore, it is committed to implementing and maintaining an effective environmental management system with the purpose of controlling direct and indirect environmental facets of our work through internal and external actions. We believe that continuous improvement is a vital tool for complying with environmental legislation.